Outsourcing has historically been provided by public employees and has been done so with a largely consistent rationale: that applying market mechanisms and private sector expertise to the work of governments can increase efficiencies, ensure that more products reach the patients and ultimately improve the effectiveness of the entire health supply chain. However, for governments (ministries of health, central medical stores, vaccine stores and supply chain agencies) to outsource their supply chain services, they need to have the internal human resource capacity to effectively manage these outsourced activities.
The outsourcing toolkit comprises three resources that have been designed to complement one another and is intended to support governments and national supply chain organisations to successfully outsource from a "people" perspective.
Centring on the outsourcing roadmap, the toolkit allows users to assess the maturity of their supply chain and their current people practices, and defines the steps to be taken before outsourcing can be adopted. The roadmap builds on PtD's maturity model for human resources in supply chain management, Kotter's 8-step process for leading change, and is informed by interviews with health supply chain managers in Africa.
Video: Human resources for outsourcing: advice from supply chain experts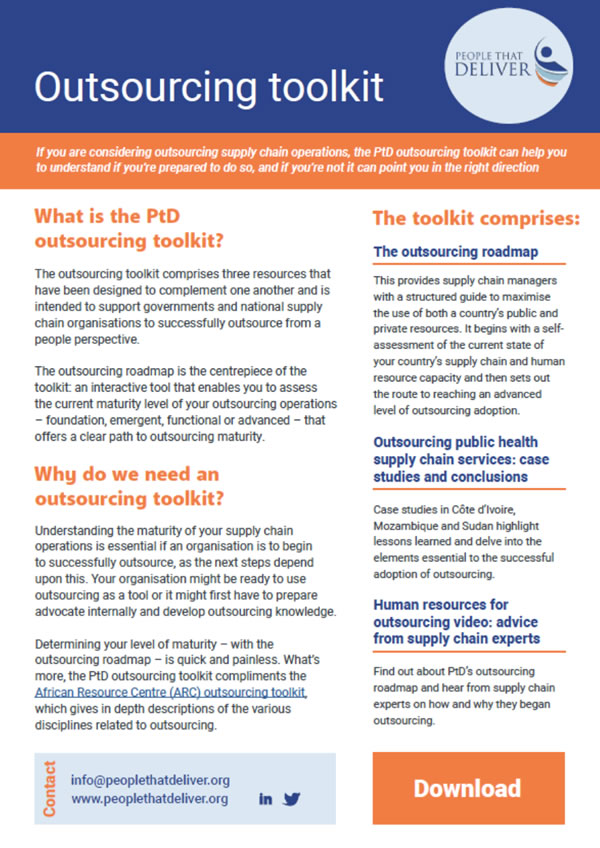 In a nutshell what the ToC is and who it is for.